About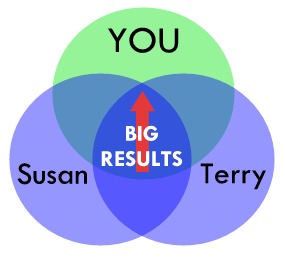 We are a small two-woman agency dedicated to helping small business owners reach their digital marketing goals. Between us we have 25+ years experience with Internet marketing, which gives us an informed perspective about what's in style, what's not, and what works and what doesn't.
We dislike referring to ourselves as "Janes of all trades" because that often implies knowing a little about a lot and not being especially good at anything. In our case, all those years of experience mean we know a lot about a lot and have the wisdom and creativity to put that knowledge to good work achieving your desired results. Our small business clients know we'll take good care of them and come back again and again for additional work.
Susan Critelli has been online the longest and is known for being a first-adopter. She has excellent instincts about what the next big thing will be and keeps us on our toes and up to date. She's also a certified Social Media Strategist and thoroughly understands what works and what doesn't in the ever-changing world of social media.
Terry Andrews (aka Teresa) is an artist at heart and the designer behind the "look and feel" of our projects. She's also a natural organizer and can quickly see the path out of apparent chaos into a successful and satisfying end-result. She has extensive experience in website design, WordPress, email marketing, SEO, ad campaigns and so on.
Together, we'll bend over backwards to ensure your success.
Pricing is always of concern for small business owners. It's a problem for us as well. "Should we put prices on our website?"
We know as consumers that we tend to head the other way if we don't see pricing because that often implies that if you have to ask you can't afford it.
On the other hand, prices can be very misleading. Regardless of what the project is, prices can seem too big without a thorough understanding of what the project entails and how it will realistically benefit you and your business – or too small, perhaps implying that we do shoddy work (not a chance!). And, because our work is customized very specifically to each individual client, it's nearly impossible to generate something like a price list. Consequently, we aren't going to try.
We'd much prefer to learn about your project and your budget and compile a plan and price that fits your needs. Be assured that you're likely to get more hours of our time than what you'll pay for – and that we're not a high-priced all-the-bells-and-whistles company. In fact, a client recently encouraged us to raise our prices! As client Pat Benjamin says in her testimonial:
We know that whenever we have questions or need extra help that these ladies will do a terrific job for us. They're very creative, knowledgeable, hard working and they get results. Plus, their pricing is better than anything we can get anywhere else!
Do you have a project in mind? We hope you'll contact us so we can explore the possibilities. If we can't help you, we'll say so. If we can, we'll give you the how, the why and a reasonable price.
You can feel comfortable contacting us because one thing we will never do is employ strong-arm sales tactics. Since we may be working closely together on your project, we prefer to establish a comfortable, thoughtful and respectful relationship right from the start, taking the time to ensure that you have a complete understanding in order to make fully informed decisions. Get in touch! We're looking forward to learning about you and your project.