One Size Does Not Fit All Small Businesses
Whether you need a website, blog, social media, newsletter, a mobile-ready site or other tools to help you market online - or, just need to pull together what you already have - we can help. We'll evaluate your needs and help you with implementation so you get results.
Need an assessment, support or a free quote?
Call 609-647-8589 to discuss your digital marketing needs, or click the button to contact us.
Get in touch with us
Look Good

A polished, well-thought-out online presence gets results, but only if it has the right functionality and "look and feel" for your business needs and target audience. Confused about what will work best for you? We can help!
Create Buzz

Building an active community through social media encourages word-of-mouth, loyalty and, of course, more sales. We can help you get started, build engagement, or even manage your social media for you.
Sell More

Build your mailing list, get more search engine traffic, initiate an ad campaign - whatever your digital marketing needs, we can help. We have 25+ years of experience to draw on to help you build your business.
Is Your Website Mobile Ready?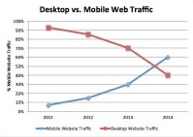 By the end of 2014, more website visits will happen from mobile devices than desktop computers.

For some local businesses, like restaurants, 80% or more of website visits are already from mobile devices.
How much traffic are you missing out on? Click to learn how to get mobile-ready.
"We needed digital marketing professionals with patience, flexibility and of course, knowledge of best practices. Terry and Susan are the complete package. Their sincere willingness to offer both 50,000-ft.-view advice and insight, as well as digging into the details was integral for our success to date."

- Jessica Seyfert, FitAfterFifty.com
Success Stories
Each project begins with evaluating your digital footprint and existing initiatives, providing recommendations, then helping to implement what's needed so that your business has a good foundation to grow from. If you already have a good foundation in place, we can plug in and provide support where needed.

See more Success Stories.
Visit Our Sister Site
Find great how-to's, news and other timely info for growing your business at
Going DotCom
.