You see smartphones, tablets and other mobile devices everywhere, right? You probably have one or more yourself. Have you considered how the popularity of mobile devices may be affecting your business? Here are some interesting statistics you should consider. Keep in mind that these stats are for 2011 – 2013, so they're already out of date. The numbers for mobile device usage are increasing rapidly.
Have you looked at your website on a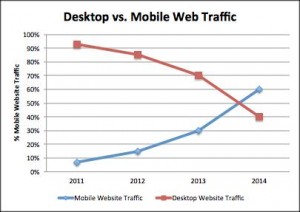 smartphone? How does it look? Often a site will render nicely but the navigation menu may be missing, buttons and sliders may not work or critical images will be distorted.
Fortunately, we have a solution for you. We can install a mobile version of your website to work seamlessly with your existing site – and at a reasonable price. Let us know if you'd like to discuss how we can optimize your site so it looks and works great for everyone.
---
Visit Our Sister Site
Find great how-to's, news and other timely info for growing your business at Going DotCom.